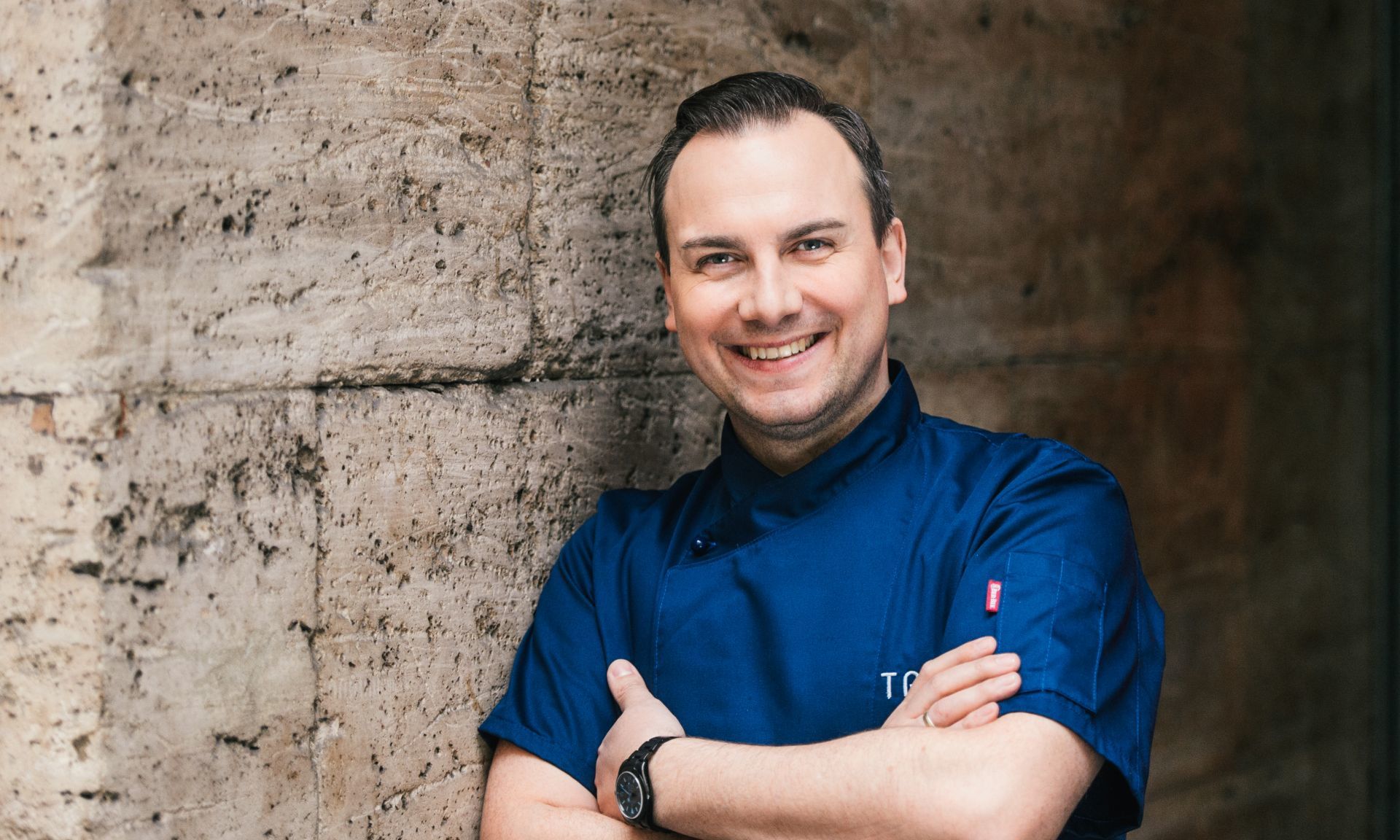 Tim Raue – a cheecky monkey in the kitchen (and a two-star chef)
Berlin
Tim Raue "I do not want anyone to feel full," says Tim Raue; an unusual motto for a two-star chef. But Tim, Berliner, frequent flyer and Asian fan, adds, however, that this is not a typical German food concept. "First stuff yourself; then drink two shots before leaving."
He wants to inspire other people and to be inspired by others. It doesn't matter, either as a cook or an artist – statues by Takashi Murakami, metal art by Tom Ford – something happens in his head....
In his youth, it was important for Tim Raue to feel full. He grew up in Kreuzberg in the '80s, a rough neighborhood in the west of Berlin. His parents were divorced; sometimes he lived with his father, who pounded him with a wooden spoon, sometimes with his mother, who served packaged soup. He joined a youth gang and had fights with other boys. Hunger accompanied his childhood; violence was normal.
In the kitchen, Tim Raue scrubbed his past out of his life. Nothing is left of the brawler in precarious conditions. He operates a famous restaurant in Kreuzberg, wears tailor-made shirts and collects a bit of art. He regularly cooks for guests in New York, Dubai and Singapore. In the Southeast Asian metropolis, Tim had his "aha experience" 15 years ago. In the restaurant "Jade" of the Fullerton Hotel, he ate Peking duck skin served in a French goose liver terrine, pork ribs dusted with cocoa powder and finally Chinese codfish baked in tempura batter and served with a Thai sauce. Suddenly he knew what he wanted to do as a chef: modern Asian cuisine. In all dishes, spicy, sweet and sour elements should be immediately recognizable to the taste buds, while the texture of an ingredient should remain unchanged. The Norway lobster, a prawn, fried in tempura dough and glazed with wasabi mayonnaise has become his trademark. He has received his Michelin stars for this type of direct cooking. Tim Raue hates to sit in a restaurant, with a plate in front of him while the waiter tells a story for three minutes. "I want to taste with pleasure," he says. "I'd rather have a cup of ice cream than just a scoop." Excessive? No, sensuous.