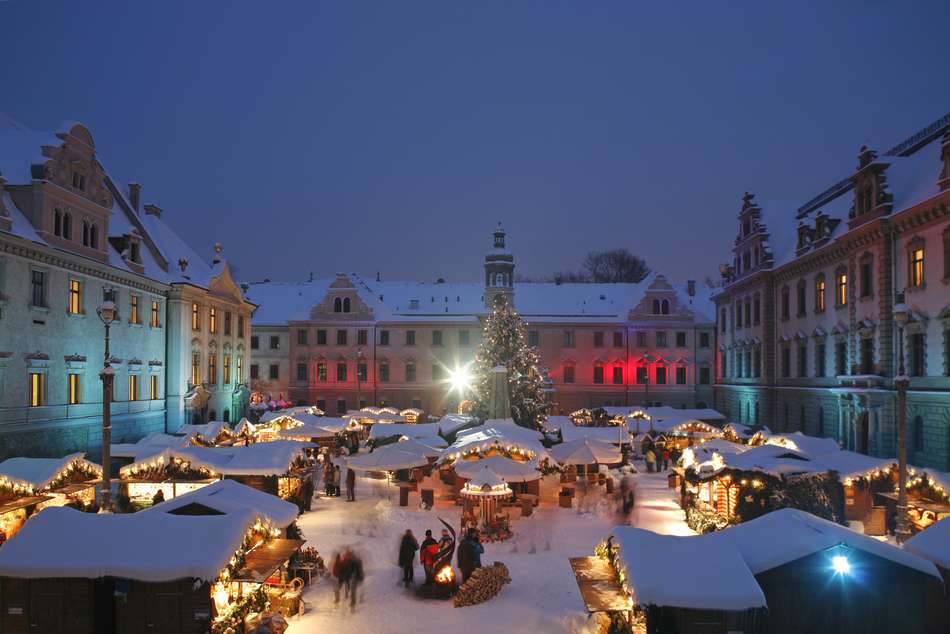 The Romantic Christmas Market at Castle St. Emmeram
Regensburg
Every year in December the courtyard of the castle forms the enchanting backdrop for a beautiful Romantic Christmas Market. Local arts and crafts, musical performances, Christmas lectures, a children's program and culinary delights make the princely Christmas market one of the most beautiful in Bavaria.
The picturesque scenery of Castle St. Emmeram gives the "Romantic Christmas Market" an incomparable atmosphere. Thousands of visitors flock here every year to be taken back to the time of horse-drawn carriages, nobles and court ladies. In the shelter of the imposing castle facade, the courtyard shines through countless candles, lanterns and torches in a soft, atmospheric light. In the middle of the lovingly carved-out village of Christmas-decorated wooden houses stands out a mighty, magnificently decorated Christmas tree.
Regensburg, located in the heart of Bavaria, is one of the most beautiful cities in the world. His - thanks to a happy, fateful destiny - in the war completely unbroken old city is considered a "Medieval miracle" and 2006 was designated by UNESCO as a World Heritage. Among its most famous buildings is the Princely Castle St. Emmeram, the headquarters of the world-famous noble family Thurn and Taxis. Again and again, I.D. Princess Gloria of Thurn and Taxis with her family casually among the guests.