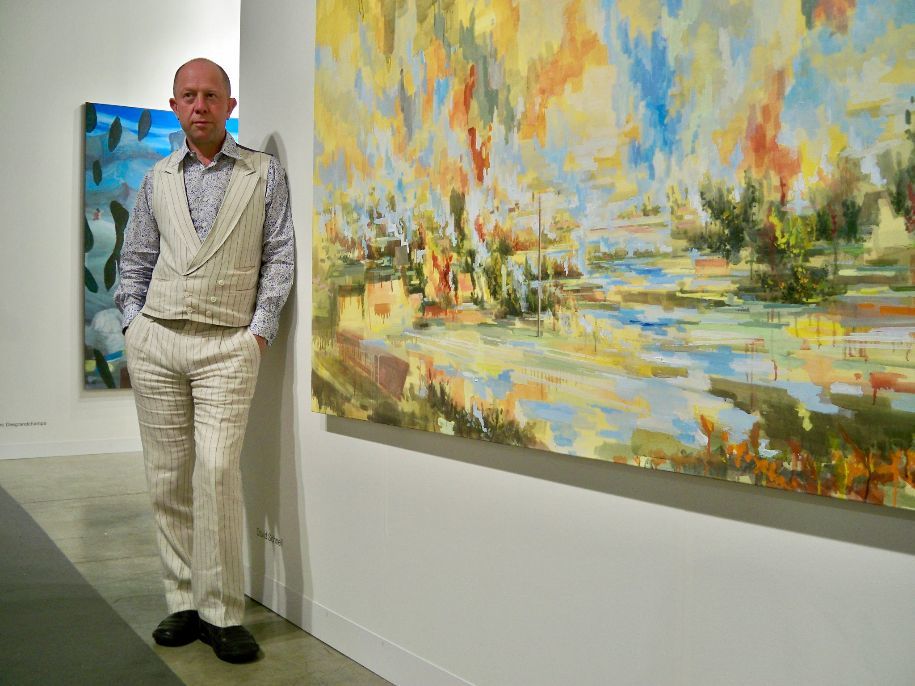 Judy Lybke – a man who stood naked in the doorway. For a good reason.
Leipzig
He stood naked in the doorway, back-combed his hair into a bird's nest and added three eggs. That's how Gerd Harry Lybke, whom everyone just calls "Judy," opened his first exhibition in 1983 in Leipzig.
He was trying to distract the "Stasi," the secret police. In East Germany, there was a ban on assembly, only people who knew each other personally were allowed to get together. There was no free art scene. But what gallery owner would come up with the idea to open his doors "dressed" like Adam? At least, he hoped that was what the Stasi would think!
Lybke's ingenuity back then has developed into one of the most famous galleries in Germany today, "Eigen + Art." It is now headquartered in Berlin-Mitte and owes its reputation to the artists of the so-called Leipzig School, i.e. figurative paintings in large format. Judy Lybke let them paint realistically to their heart's content, while around them, the market was demanding installations and video art. Star artist Neo Rauch has been with Lybke, who is now 57, since the beginning of his career; he too is from Leipzig. Rauch now sells his paintings for six-figure sums, With much chatting, Lybke convinces the collectors to buy. His tactic is to tell everyone absolutely everything: about his beginnings, his failures and his successes.
He treats anyone like a friend, explains art to everyone. He is not an intellectual snob; he himself did not read until he was 18, well, except for the sex education book.

Such stories also appeal to buyers in Zurich, Miami and Hong Kong. Lybke is the entertainer among the German gallerists, some say the loudest, others the funniest. When he goes to the major art fair "Art Basel Miami Beach," he refreshes himself in the morning in the sea - but only if sees someone else swimming further out there.
That way, he won't the one to be attacked by the sharks, he thinks.
Today, the Adam costume is no longer his trademark, but rather the three-piece suit. He has a number of them in his closet. At openings, he wears them like a second skin. Without one, he would probably feel naked.