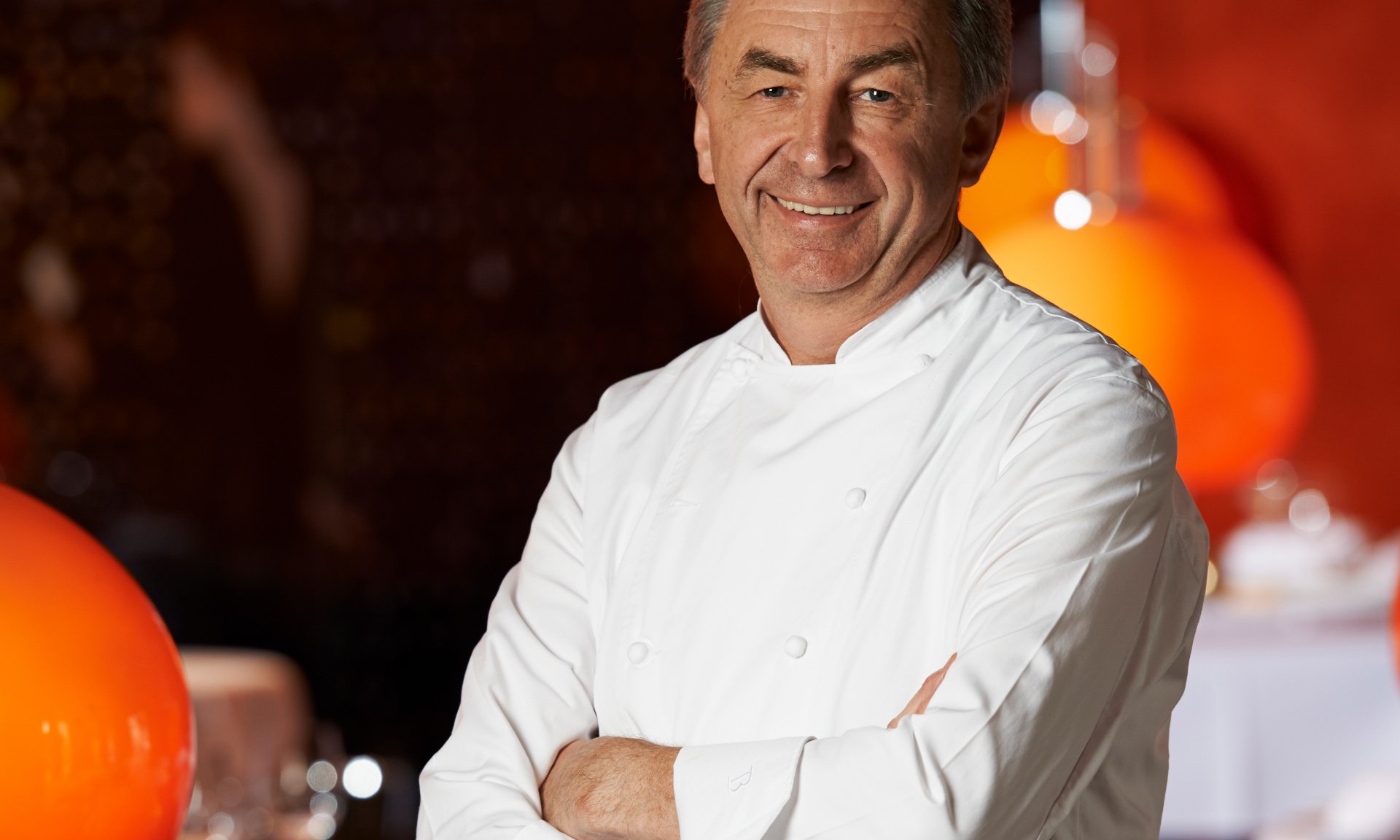 Hans Haas – a great chef at an extraordinary place
Munich
Hans Haas is one of the top German chefs. In an interview, he explains how he does it, that every day the whole city and the surrounding area come to visit him at "Tantris."
"Munich? To be perfectly honest: I don't really know the city! For 30 years I have hardly left the kitchen. I come in the morning, when it's still dark outside and return sometime at night just on the few streets to my apartment in Schwabing. Only rarely do I manage to get to the Viktualien-Markt or even the small, but nice market on the Elisabethplatz, which is just around the corner.
"I love the city in my own way. Every day Munich and its beautiful surroundings come to me in my shop. Early in the morning, the first suppliers are at the back door to the kitchen bringing fresh goods. Most of them come unannounced. Just like this morning, Mr. Wagner, who is one of three pensioners who regularly provide me with wonderful mushrooms. He came with two small, pretty baskets in his arms, straight from the woods at Wolfratshausen. With a gold-digger smile, he presented me with five dozen porcini, a few red-cracked boletes, a handful of chanterelles and a few weeping milk caps, stories about soil conditions, microclimate and the forester included. Today we will be serving our guests porcini soup with prawns. Simple and good.
"Peter, from near Nuremberg, brings us tomatoes. He breeds a highly aromatic Franconian tomato and beautiful herbs such as red-veined dock, mustard sprouts and field cress. Mrs. Werner, one of my favorite gardeners who do their growing in the north of the city, came today with beans, zucchini and butternut squash. Mr. Maier from Franconia spontaneously loaded five buckets of the sweetest black cherries into his car trunk this morning and drove over. The fruits were so plump that we immediately canned them. My recipe: caramelize sugar, pour in some red wine and a little port and simmer. Then add cinnamon, lemon zest and fresh vanilla, bring to a boil again and bind with some cornstarch - that's it."
"I love laying in stores for the winter to save the flavors of summer for the cold months. That reminds me of my childhood on a small farm in Wildschönau in Tirol. As a small boy, I helped my mother in the kitchen occasionally. When I was 11, I helped out for the first time in the guesthouse in town, in order to earn myself a few shillings. When the boss of the 'Kellerwirt' noticed that I was passionate and somewhat talented, she put a chef's hat on my head and let me do my thing. If I hadn't had such big ears, the hat would have slid over my face. My love for regional products stems from this time. 'Bio' for me is always self-explanatory, not a label.
"Naturally, even 'Tantris' is closed sometimes. Then I need fresh air and exercise. My wife and I ride racing bikes. We manage 80 or 100 kilometers easily in the direction of Tölz or the Tegern Lake. Even in sports, I am quite ambitious. On our way, we stop at small family guesthouses, plunk ourselves down in the garden under a chestnut tree and have a beer. With food, I am uncomplicated; I just order whatever is on the menu. My favorite is homely fare. Simple and good."