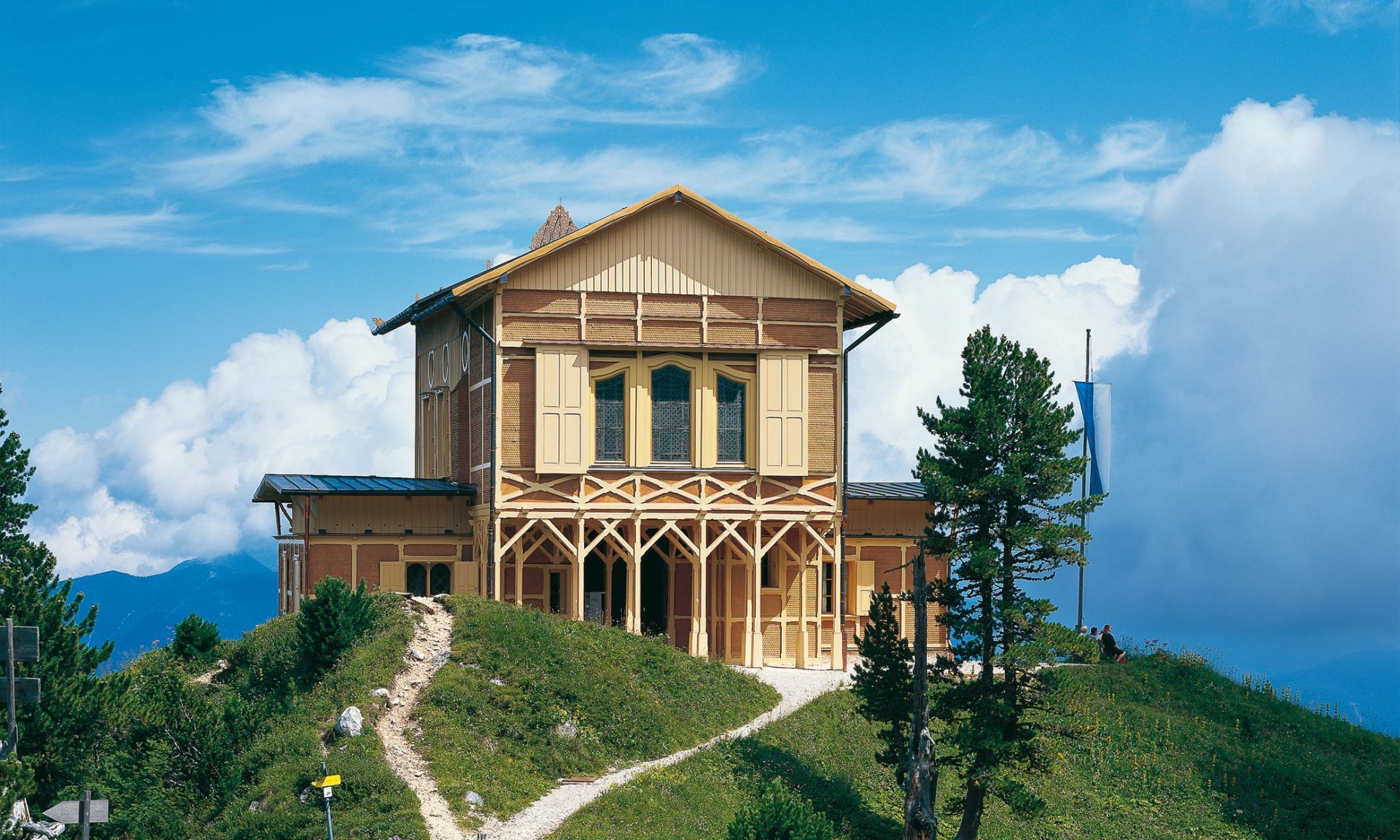 Castle Schachenschloss – King Ludwig's magic palace from 1001 nights
Wetterstein
Neuschwanstein, Herrenchiemsee and Linderhof are the famous fairytale castles built by the Bavarian King Ludwig II in the 19th century. The buildings could hardly be larger, more pompous or more elaborate; they are world famous and are visited by millions of tourists every year!
A gem that hardly anyone knows about is on the Schachenalpe in the Wetterstein Mountains. It is a small, private pleasure palace, 1876 meters high, where the king celebrated his birthday every year. Ludwig let himself be carried up the mountain over a forest path on a litter for his day of honor, and be pampered there by 20 servants.

Visitors today do not enjoy the same luxury - they have to walk up the mountain for almost four hours. However, they are rewarded on arrival with magnificent views of Garmisch-Partenkirchen and the Zugspitze! The Schachenschloss itself blends into the landscape. It was built in the style of a Swiss chalet entirely of wood. From the outside it seems rather plain and modest - not at all Ludwig's style - and the five rooms on the ground floor are kept simple. The walls are clad in rustic pine and the floors are laid with plaid felt rugs.
The upper floor is all the more magnificent. In a British magazine from 1840, the king, who suffered from wanderlust, discovered a picture of the historic hall in the palace of Sultan Selim III and had a duplicate constructed. In the "Turkish Hall," the sunlight falls through colorful lead-glazed windows bathing the room in a soft light. Divans and armchairs are richly decorated and embroidered. Fans of peacock and ostrich feathers stand in golden vases. An oriental fountain bubbles in the middle of the salon, and a fantastic starry sky is painted on the ceiling. The magnificent chandelier is not just a decorative element, with its enormous weight it helps to anchor the roof of the small castle in the heavy winter storms.
But such structural details would have had little interest for the king as he plunged into his fantasy world. Ludwig put on a sultan's robe and ordered the servants to dress themselves up in turbans and jingling earrings. As part of the scene, they had to lounge on rugs and pillows sipping sweet mocha and smoking the hookah - silently. No Bavarian sound could be allowed to destroy the illusion.